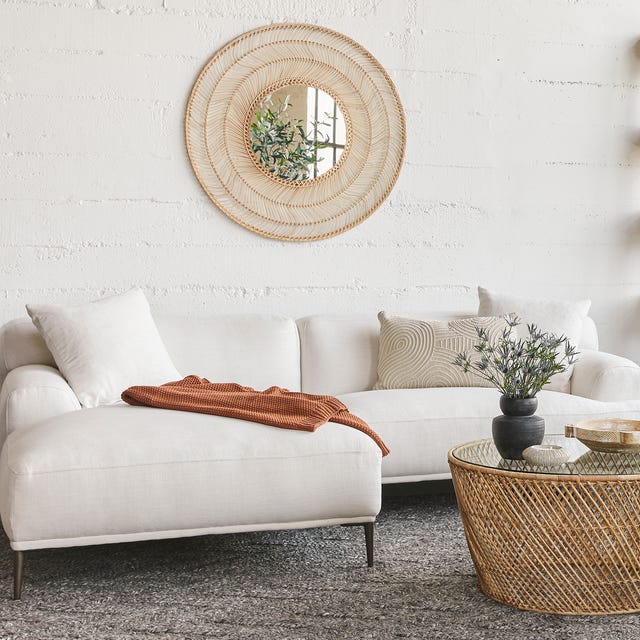 Okay, so you want a sectional to decorate your living space (and enhance your work-from-home setup, naps, and movie nights), but just don't think ya have the space. Well, think again! Because here's a list of the best sectionals for small spaces that'll convince you otherwise.
Thanks to customizable and convertible designs, the chic sectionals below can serve as seater sofas, as well as left- or right-side ottomans and even comfy chairs. Below, you'll find small sectionals for every style and price point—everything from retro velvet sofas and elegant white ones to mid-century modern pieces, leather sectionals, and even colorful couches that'll make a major statement. So if you're in need of a new place to loungeeeee, keep scrolling for the very best sectionals for small spaces on the market.
Our top picks for the best sectional sofas for small spaces of 2022
1

This velvet one

AllModern Luo Stationary Sofa & Chaise Sectional

Read More

2

This modern option

West Elm Build Your Own Dalton Sectional

Read More

3

This leather one

Burrow Arch Nomad Leather Sofa with Ottoman

Read More

4

This gray sectional

AllModern Aaron Stationary Sofa & Chaise Sectional

Read More

5

this compact one

Nolany Convertible Sectional Sofa L-Shaped Couch

Read More
Ahead, functional, customizable, and convertible furniture that also happens to be super chic—no matter what your fave interior design style is. You're welcome. <3
1
This velvet one
AllModern Luo Stationary Sofa & Chaise Sectional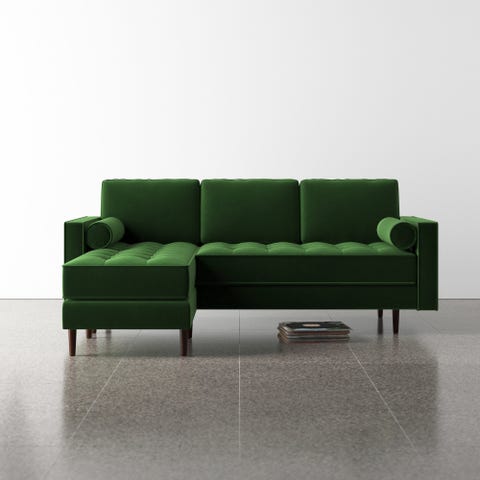 Velvet is difficult to snag
Solid wood frame
Might be too firm for some people
This mid-century modern-inspired cutie features richly colored velvet upholstery and button-tufted seat cushions.
THE REVIEWS: "Absolutely love everything about this couch! I spent months hunting down what I wanted. I was very nervous about buying a couch without sitting on it beforehand, but I do not regret my choice at all," writes one reviewer. "If I had more space I would be purchasing another! I love a firm couch. Actual back support is a must for me. Color is also perfect. I went back and forth between the two greens and ultimately am very happy I settled on this one. Customer service is also amazing!"
2
This modern option
West Elm Build Your Own Dalton Sectional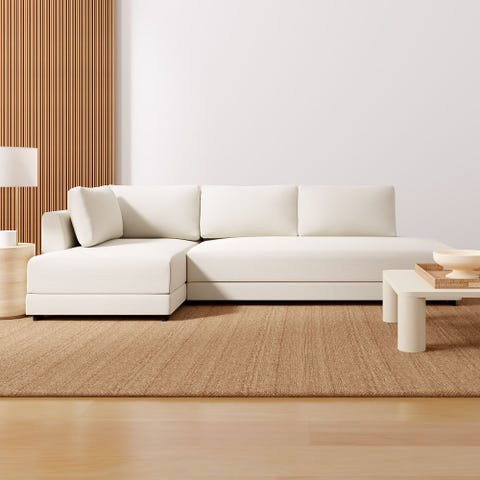 Durable wood
Removable legs
Modern and elegant, this sectional has about a million customizable components—it's available to purchase as a seater sofa, a chair, a bumper chaise, and more.
MY REVIEW: No one does the clean and crisp aesthetic like West Elm, and this is the perfect example. It's one of those modern pieces that'll instantly elevate your entire living room.
3
This leather one
Burrow Arch Nomad Leather Sofa with Ottoman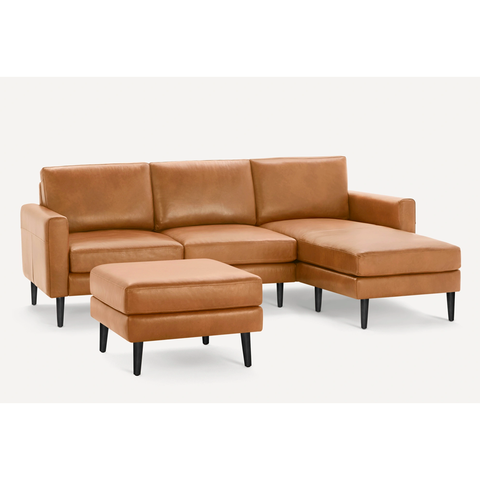 Includes a built-in USB charger and power cord
Three-layer foam cushions
Some reviewers had issues with delivery time
This versatile option features a moveable chaise lounge on one side of the sofa and an ottoman on the other. (It's also available without the chaise if you don't have room for that!)
THE REVIEWS: "This sofa is the perfect size. The seatbacks are not too low like some sofas of this style," writes one reviewer. "We love the ottoman and ordered a second one!"
4
This gray sectional
AllModern Aaron Stationary Sofa & Chaise Sectional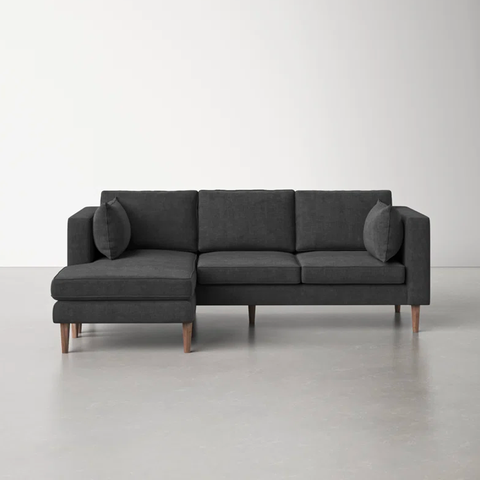 Some reviewers say it's difficult to assemble
Compact square arms and tapered legs make this sectional ~ideal~ for small spaces because it won't overwhelm them.
THE REVIEWS: "Such a great couch that fits perfectly into our space! The fabric is soft to the touch and comfy to sit on," one reviewer writes. "We love the style that gives our living room the look that we have been dreaming of!"
5
this compact one
Nolany Convertible Sectional Sofa L-Shaped Couch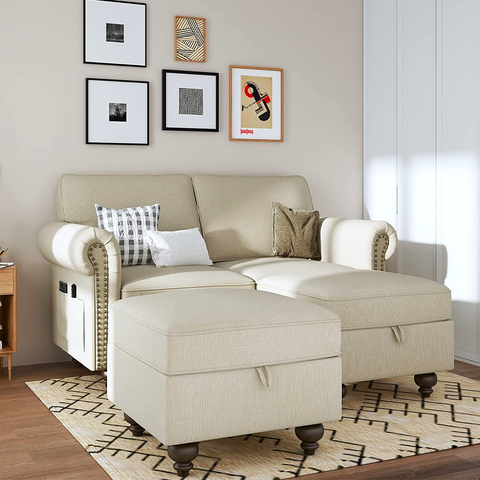 Affordable
Wide arm rests
One reviewer says the felt pads it comes with slip off easily
It's classic in style and rich in texture. The movable storage ottoman can easily turn into a right or left-side chaise couch, or a sofa with a footstool if that's your vibe!
THE REVIEWS: "This is a great small sofa! It came in three boxes, very easy to assemble. The arm scrolls aren't very big but look like a tiny version of elegance," writes one reviewer. "Matches my decor when I needed something quick to replace another piece. It's also fairly comfortable for the price. The seams do not line up perfectly with the cushions but that actually makes it appear to be a comfortable, linen-looking fabric sofa. Everyone wants to sit on it. The ottoman has a nice amount of storage for extra throws. I definitely give this sofa a thumbs up!"
6
this stain-resistant one
Floyd Home The Sofa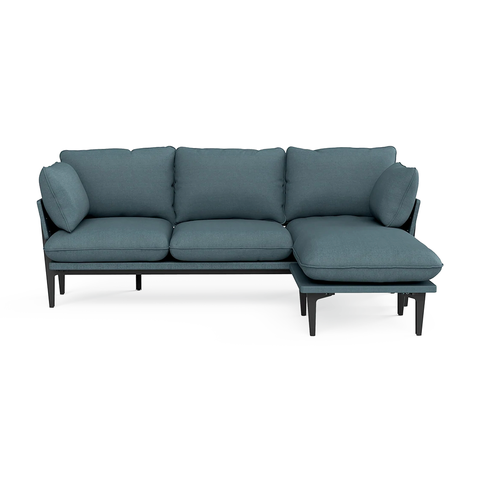 Stain-resistant fabric
Hidden padded panel adds comfort and prevents cushion slippage
Its fluffy cushions are upholstered in durable and stain-resistant fabric, while powder-coated steel legs make for a durable base.
THE REVIEWS: "Great quality, looks BEAUTIFUL," writes one reviewer. "I can tell this is going to last. Only slight comment is that the depth of the seat ends up feeling much more shallow than you'd expect. We slightly pulled out the base cushions from the back and it's perfect."
7
this neutral option
Zipcode Design Almendarez Modular Sofa & Chaise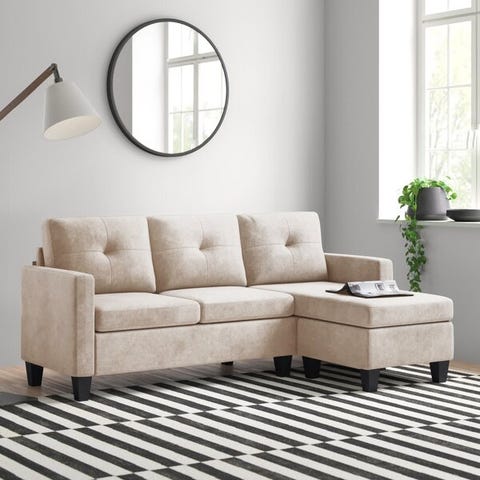 Tufted back cushions
Compact size
Some reviewers say the color looks different IRL
Other colors are out of stock
Thanks to the classic square arms and neutral hue, this sofa sectional will match a variety of decor styles.
THE REVIEWS: "Perfect for my small living room. It was easy to assemble and comes with tools. It's a firm couch, but it feels comfortable to me," one reviewer writes. "Very happy with it. It arrived as expected date and time."
8
this light blue one
Article Abisko Quartz White Left Sectional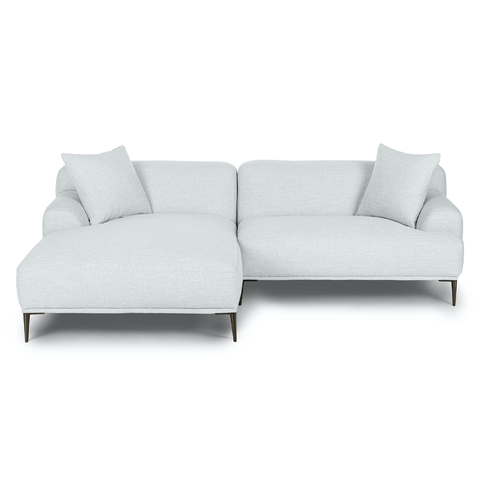 Easy to assemble
Slouchy style
The unique low-profile design will instantly elevate any itty-bitty living room.
THE REVIEWS: "I absolutely love my new couch! It's comfortable, clean, beautiful, and extremely easy to assemble," writes one reviewer. "For the price point, I think it's exceptional and have had multiple friends buy it since."
9
this low-profile sectional
Valyour Furniture Mario Capasa Feathers Sectional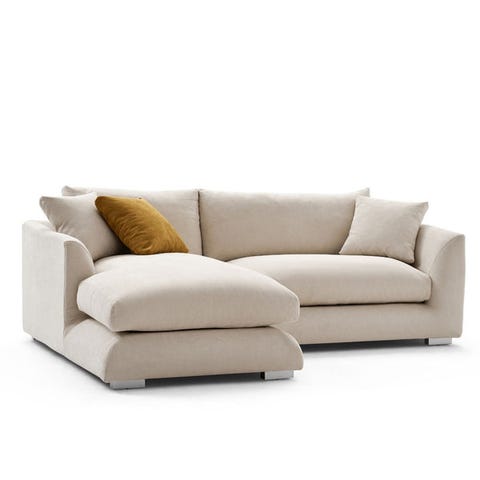 Washable and stain-resistant
Trendy, cloud-like design
Some reviewers say there were delivery issues
The washable, water-resistant, and stain-proof fabric makes this sectional the perfect choice for a family with small children.
THE REVIEWS: "This sofa is gorgeous! Exactly as pictured and extremely comfy!! I take the best naps on this couch. I also love how it's washable since I have two dogs who love to lounge on the sofa and lots of company over," writes one reviewer. "Love this! Don't be scared to order a sofa on the internet lol."
10
this blue one
Andover Mills Campbelltown Reversible Sofa & Chaise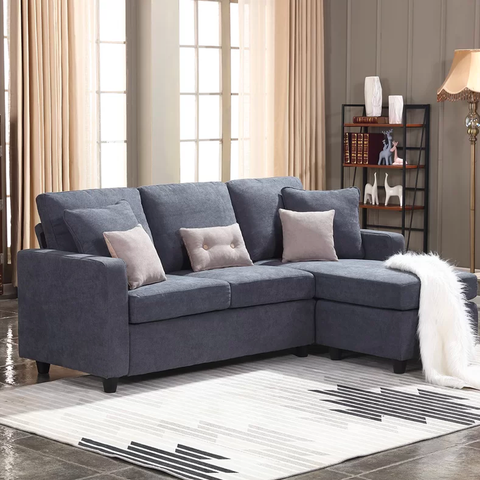 Removable seat cushions
Solid wood frame
Some reviewers say the cushions don't fully expand
If you hate couches that sink in sooo much they basically trap you, add this comfortably firm one to your cart.
THE REVIEWS: "Great small sofa for apartments! Very affordable and modern for the price. Definitely a great purchase. I'll be upgrading soon for a larger one, but if you live alone or with one other person, it's perfect," writes one reviewer.
11
this pink sectional
Apt2B Furniture Scott Reversible Chaise Sofa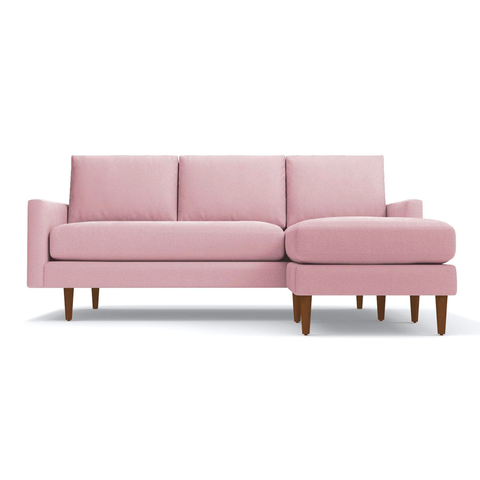 Available in over 60 colors
Breathable, hypoallergenic fabrics
One reviewer says the ottoman moves around too much
Um, hello, do you see the color?! If that doesn't convince you, there's also the fact that the chaise ottoman can be moved to either side of the sofa.
THE REVIEWS: "I love this couch! I had been on the hunt for a couch in a unique color and was immediately drawn to Apt2B's wide selection. I was able to get a couch the right size and fun color I wanted for my apartment and the delivery process was easy," writes one reviewer. "The couch is comfortable, good quality, and can withstand animals which is a plus."
12
this tufted one
Maiden Home The Ludlow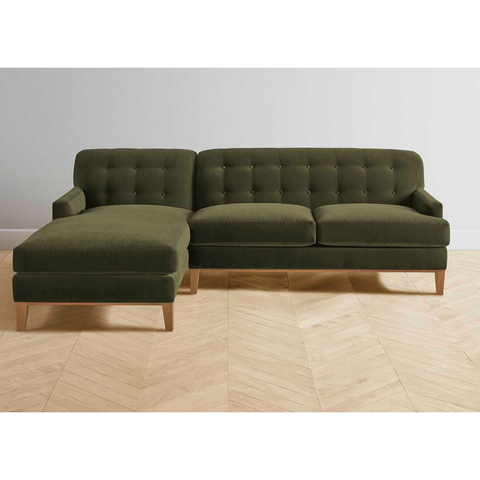 Pet-friendly
Beautiful and well-made
Another hand-tufted beauty, the Ludlow features versatile comfort and traditional craftsmanship.
THE REVIEWS: "I received my Ludlow sectional in slate performance velvet at the end of December and wanted to give it a good trial run before submitting a review. Long story short: it is the perfect sofa," one reviewer writes. "Comfortable, supportive, great for Sunday lounging but not so deep that guests can't comfortably sit upright. And surprisingly pet-friendly. One swipe with the lint roller grabs all of my cat's hair—and there's hair because the Ludlow is also his new favorite place to lounge and nap!"
13
this versatile one
Burrow Field 3-Piece Sectional Lounger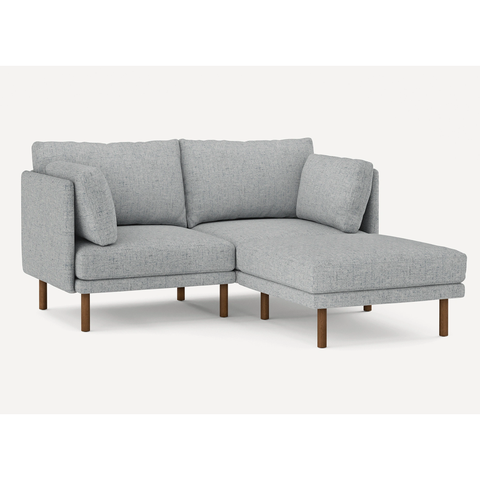 Deep, wide seats and overstuffed back cushions
Easy to clean
Some reviewer say it's a little stiff
This two-seat sofa with a chaise configuration is specifically designed to accommodate all different spaces. Seriously, the possibilities are endless!

THE REVIEW: "I was fortunate to be able to go to the SOHO showroom to test out all the sofas which made the decision even harder. Although I had my heart set on the velvet Nomad sofa, the Field sofa felt so much more comfortable to me," writes one reviewer. "I like that the sofa is firm and the pillows are great against my lower back. I'm very happy with my decision and my cat likes it too. Although I put the sofa together by myself, it would have been easier and faster with two people. After two weeks, so far so good. Shipping was quick and customer service has been excellent with any questions."
14
this one with a boxy silhouette.
West Elm Harmony Modular 3-Piece Ottoman Sectional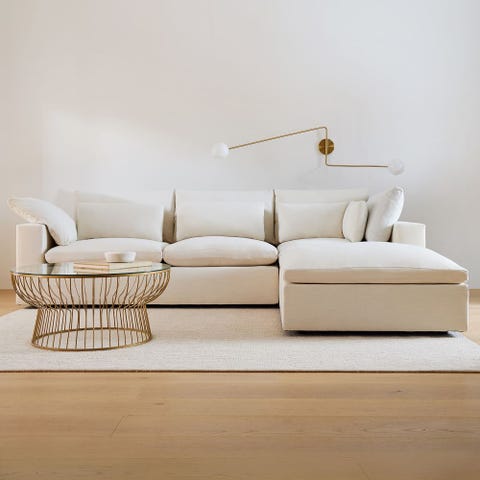 Lumbar and throw pillows included
Modular pieces are easy to move
Might be too big for some small spaces
This three-piece sectional is as comfortable as it is chic if you can believe it! It's got hand-built frames with hand-finished upholstery and pillowy-soft cushions.
MY REVIEW: If you're looking for an extra-plush sofa, this one takes the cake in terms of softness.
15
this comfy one
Eddie Wide Right Hand Facing Sofa & Chaise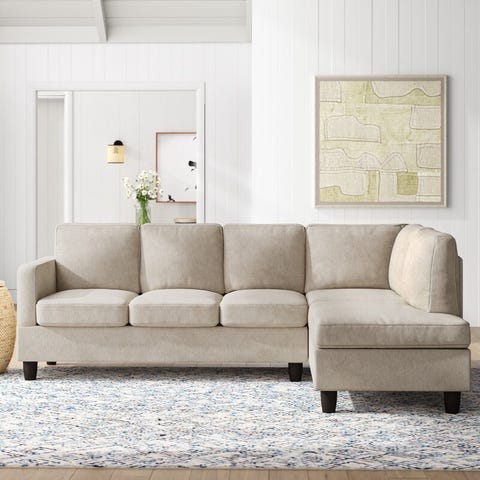 Doesn't include a moveable ottoman
The foam-filled cushions are extremely nap-able, and we love love love the chic, clean-lined design.
THE REVIEWS: "Absolutely perfect for an apartment. Super comfy, perfect color, and assembly wasn't hard at all! Can't beat the price, either," one reviewer writes.
16
this build your own sectional
Build Your Own Jones Module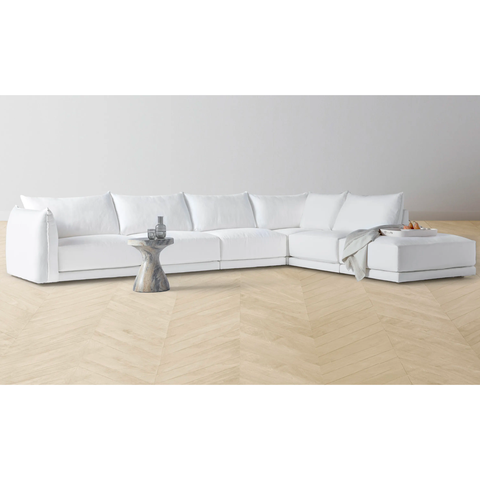 Most reviewers experienced seamless delivery
Perfect "soft to firm ratio," according to reviewers
Some reviewers say the fabric doesn't hold up over time
Okay, I know what you're thinking: "How tf is that going to fit in my small space?" Well, you can customize it with the configuration and material that work best for you!
THE REVIEWS: "The greatest couch my butt has ever interacted with," writes one reviewer. "This is easily the best thing I have ever purchased for my home…The leather is butter soft, the cushions are heaven and the pillows are the perfect amount of soft to firm ratio. I was anxious at spending this much on a couch (and I have 2 toddlers) but now that it's here I'm SO glad I did. It can easily fit my entire family, even as my boys get bigger than me. Buy it, you won't regret it."
Are sectionals good for small spaces?

Yes! We're happy to report that sectionals are, in fact, good for small spaces as long as you find one with the right configuration for you and your space. Most of the options on this list can easily transform into seater sofas, left- or right-side ottomans, or sofas with an ottoman footrest—just choose what's best for you based on space!
How to choose the best sectional for your small space

Plan ahead
Of course, you should always measure your space before purchasing a large piece of furniture that'll anchor the entire room. And this is especially important when looking for an L-shaped sectional. When you find one that you like, have a look at the dimensions and consider marking them down on the floor with some tape. This will help you better visualize how that sofa will work in that area.
Balance your space
Consider the furniture you already own, as a small coffee table might look out of place next to the large, L-shaped piece of furniture. Think about proportions, make sure your coffee table fits within the boundary of the sectional edges, and use the ottoman to showcase a pretty throw.
This content is created and maintained by a third party, and imported onto this page to help users provide their email addresses. You may be able to find more information about this and similar content at piano.io