Home coffee bars are the new money saving trend we love
Building your own coffee station (or coffee bar) is so much fun. It's the new trend coffee lovers are going crazy for. This guide will help you get everything you need for the best coffee bar ever.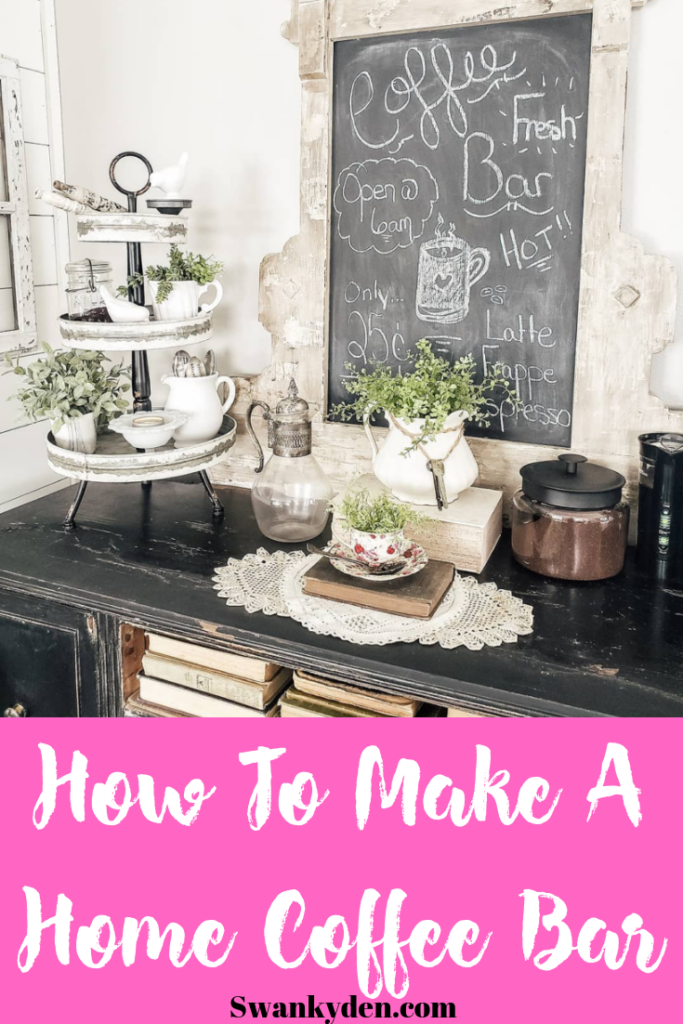 Save and Share to Pintrest
What is a Home Coffee Station or Bar?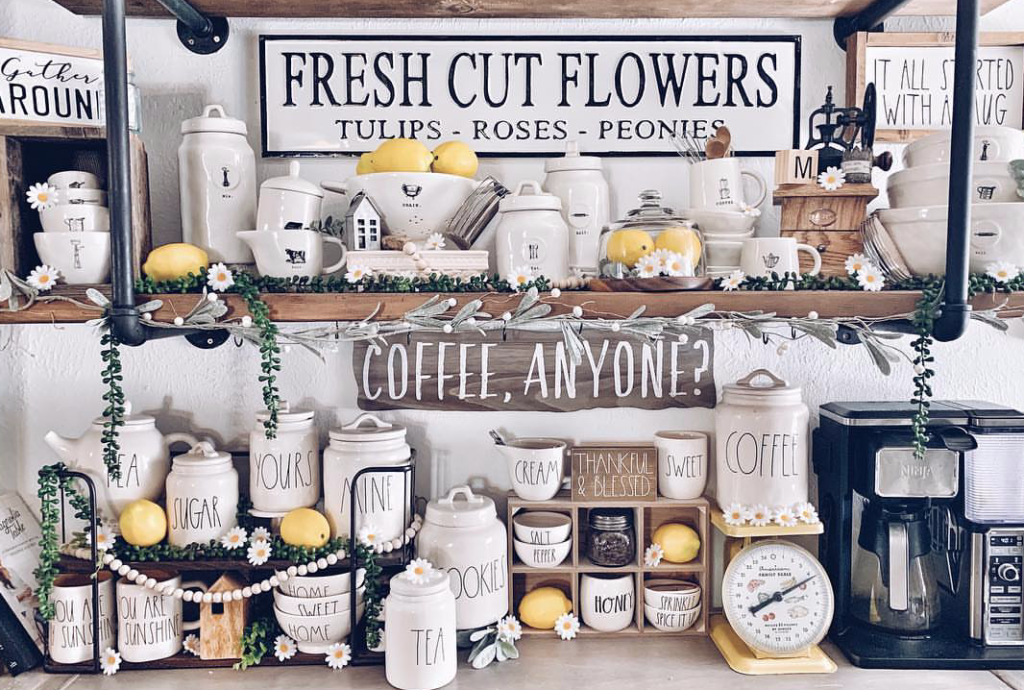 If you love coffee you probably have learned how to brew coffee at home by now. You also know how satisfying going to a local coffee bar can be. A home coffee station combines these two simple joys.
A home coffee station creates your own sacred space to enjoy your coffee. You select a space in your home and store all your coffee essentials there. It can be as elaborate as having a dedicated table or buffet with seating or just a corner in your kitchen.
Recommended Read Best Coffee Bar Ideas
The point is to create a functional and stylish area to enjoy and store everything you love with your coffee. It's also great for saving money. Going to a coffee bar can get expensive so enjoying coffee made at home is great for your bank account.
Recreating the fun of a coffee bar at home can help you get the same joy as going to a local coffee shop.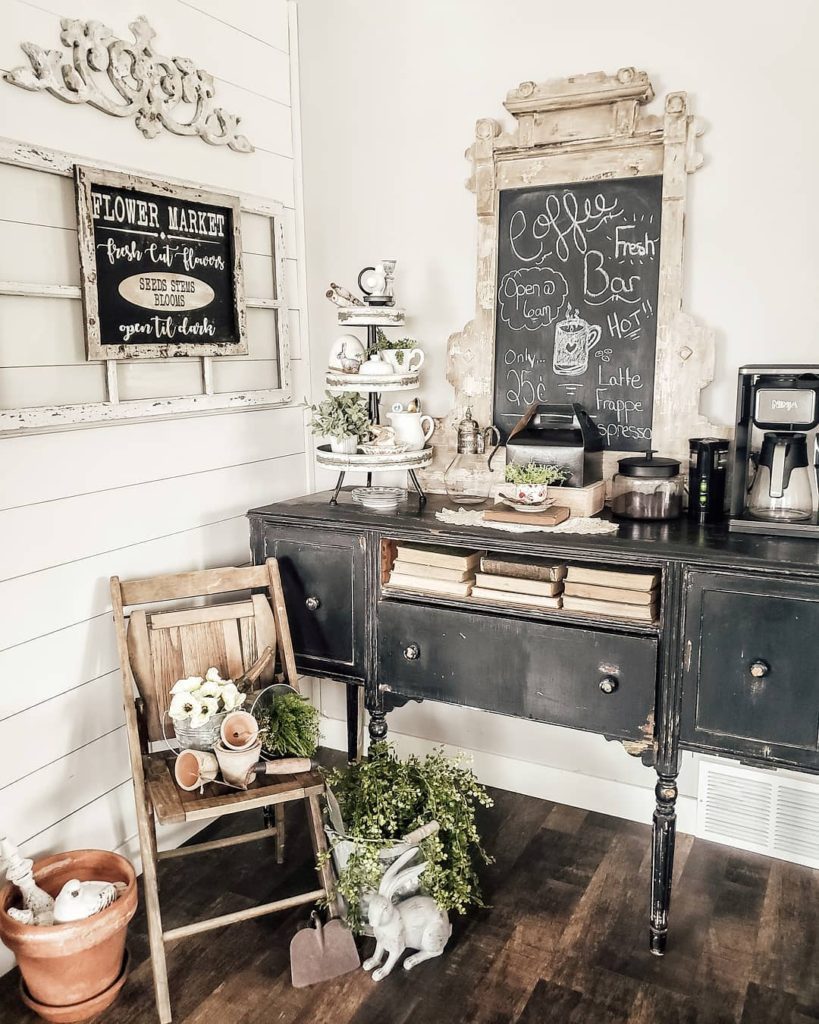 What You're Going To Need
There are endless ways to customize a home coffee bar. However, there are some essentials. Coffee bar furniture, seating, storage, organizers, and machines are going to be the main components.
The space and look you want is going to determine what you need.
Coffee Bar Essentials – What Do You Need For a Coffee Bar?
Coffee Bar Furniture
The most essential part of your home coffee station is easily the bar itself. A great coffee station starts with a great serving space. There are many options from bar cars, buffets, and your kitchen counter. This is going to depend on your personal style and needs.
Buffet/Bar
Buffets or bars are going to offer the most storage space. They are many options and many come in rustic wood designs. They're great for a farmhouse or shabby chic look. They'll also make a big statement in the room.
These are some of my favorite buffets from Amazon that you can turn into a home coffee station and have great reviews.
Espresso Buffet for Coffe Bar
Rustic Teal Buffet with Shelf for Coffee Bar
Gray Buffet Table for Coffe Bar
Gray Buffet With Glass Shelf Doors
Red Buffet Table
Bar Cart
A bar cart is a smaller solution for a coffee station. It doesn't take a lot of space and it's mobile. It's great if you don't want to commit a large space to your home coffee station. If there are various places in your home you want to drink coffee it's easy to move around.
These are some of my favorite bar carts from Amazon that you can turn into a home coffee station and have great reviews.
Gray two-tiered rolling bar with glass and metal
Gold 2-tier serving cart that looks super fancy
Industrial natural wood finish bar cart
Italian replica bar cart with embedded globe design
Counter Top
If you already have a lot of countertop space available, it's a good spot for a coffee station. Most commonly seen in the corners of kitchens. We are usually running around in the kitchen during our busy mornings so it's a practical spot. While you preparing your food for the day the coffee station is within reach. If you have the space and spend a lot of time in the kitchen this works great.
These are some of my favorite countertop coffee stations accessories from Amazon and have great reviews.
Countertop Bamboo Coffee Organize for K-cups and Nespresso Cups
3-Tier Standing Rack Perfect For Mugs And Coffee Accessories
4 Tier 72 K- Cup Capacity Countertop Storage Drawer In Black
9 Hook Mug Rack With Storage Basket In Black or Charcoal
Cafe Table
If you like to sit and have some you time  a cafe table is a good option. It takes a bit of space and can be combined with a bar/buffet. You can decoratively place some chairs and a table in your favorite morning space.
These are some of my favorite cafe table sets from Amazon that have great reviews.
3 piece Dining set in Cappuccino or a Natural Pine Finish
Giantex Compact Dining Set With Shelf in Silver or White
Marblue Pub Dining Set With 2 Bar Stools In Black Finish
Coffee Bar Storage
There are a few items to consider for home coffee bar storage. If you chose a buffet or bar that comes with storage space you will need less extra storage items. Shelves are a popular choice. Also, some come with hooks for mugs. There are also standing mug "trees" to place on top of a counter or table.
Mug Racks
There are now many mug racks to choose from. A lot come combined with a shelf. You can leverage both for storing mugs. Another option should be to use the hooks for mugs and the shelf space for some cute coffee decor.
These are some of my favorite mug racks from Amazon that have great reviews.
Metal Coffee Mug Rack With 6 Rows
Sturdy Beech Wood Expanding Coffee Mug Wall Rack
Rustic Torched Wood Coffe Mug Dispaly Rack
Rustic Wall Shelf Wooden Mug Rack For Coffee Stations
Shelves
Shelves are another option to storage mugs. There are some that come with coffee style decor but any style of shelf will work. There a great place to put decor in theme with your home coffee station.
These are some of my favorite shelfs suitable for a home coffee bar from Amazon that have great reviews.
Rustic Farm House 3 Tier Set of Floating Shelves
Set of 2 Distressed Wood Hanging Shelves In Shabby White
Metal Wire and Natural Wood Display Shelves
Canisters, Caddies, and Baskets
You're going to need a place for your coffee making essentials. These work great for sugar and stirs. If you use a keurig or nespresso machine a cute basket or canister is perfect for storing them. Glass canisters work well since the k-cups and nespresso cups are usually appealing to look at.
A Quality canister will keep your coffee fresh. They come in many different designs and color keeping them stylish
These are some of my favorite canisters and baskets suitable for a home coffee bar from Amazon that have great reviews.
Coffee Gator Canister With Co2 Vent in 6 Different Colors
Java Shield Coffee Container Large and Stainless Steel
Seagrass Basket with Handles in Dark Brown
Whitemor Rattique Storage Backest in Java Set of 3
After reading this guide you should have all the information you need for a spectacular home coffee station. If you found this useful please share and let us know in the comments below!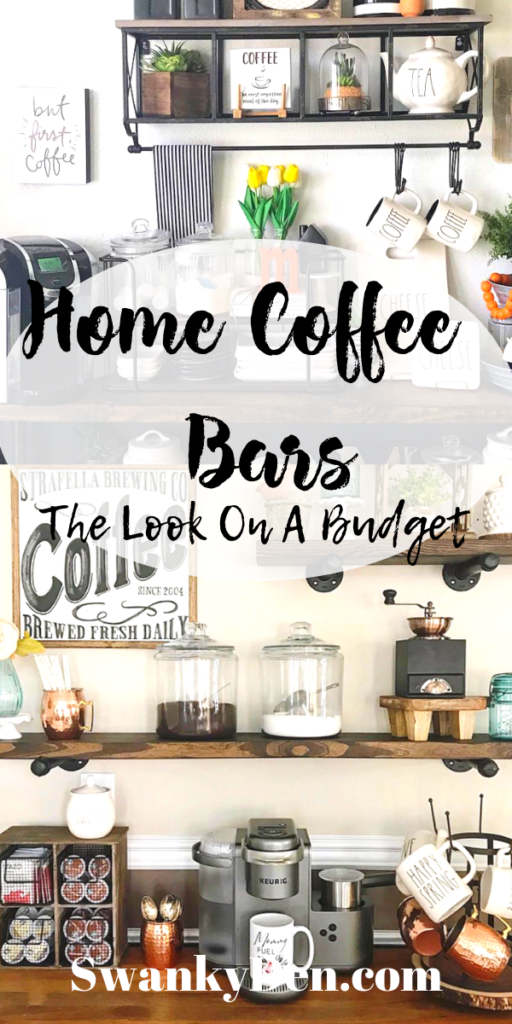 Save and Share to Pintrest
Recommended Read Best Coffee Bar Ideas